Daniel Marshall Cigars and Humidors Announces Exclusive "Cash for Cigar Clunkers" Program
Los Angeles, CA (December 11, 2018) – On the heels of the wildly popular "Cash for Clunkers" humidor trade-in program, Daniel Marshall has announced an unprecedented program, "Cash For Cigar Clunkers" and will pay you for your clunker cigars. With the previous program, customers around the country were thrilled to trade in their clunker humidors for an upgrade to a Daniel Marshall. In the same way Marshall helped customers get into their dream humidor, he has designed his latest program to allow customers to elevate from their disappointing cigars to a cigar they can trust, a Cigar Aficionado 92 point rated Daniel Marshall Cigar.
Daniel Marshall is out to prove the attributes of the DM Cigar, the benefits of 1-year minimum box aging and is offering to pay customers for their partially smoked cigars. Every cigar enthusiast knows the feeling of being let down by a cigar where the expectation just did not measure up. Now disappointing cigars that did not draw or taste good can be redeemed for credit with Daniel Marshall.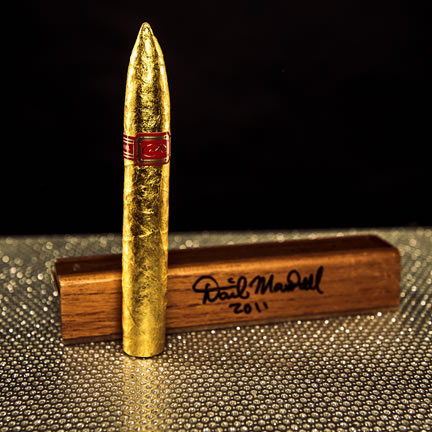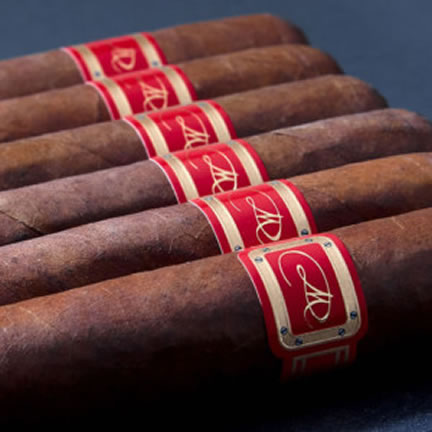 The Daniel Marshall Red Label has received international accolades and "shares the shelves" with the best cigars, at the world's most legendary and esteemed cigar merchants from Los Angeles to London, Dubai to Asia and Beirut. Dignitaries and celebrities worldwide enjoy Daniel Marshall cigars. Reported by Rake Magazine, In 2012 President Clinton bought the DM 24kt Red Label Golden Cigar at The Sahakian Cigar Lounge at London's Bulgari Hotel. Business Week wrote in August 1, 2005, "The Governator loves his Daniel Marshalls so much he erected a smoking tent outside the California Capitol."
Daniel Marshall Red Label Cigars made their debut in Cigar Aficionado's September 1, 1997 issue. The balanced Nicaraguan Puro has an elegance, finesse and richness that define the DM Cigar. The Red is a cigar rich with chocolate and espresso, inspired by Marshall's Saturday Harley rides up the coast with friends where he desired a cigar to evoke his favorite mocha.
"The DM Red Label was designed with a rich and smooth profile. My wish is for cigar "tasters" everywhere to savor the difference, quality, and benefits of box aging in our cigar rolled in Nicaragua, originally co-created by not one but two cigar legends, Manuel Quesada and Nestor Plasencia," said Marshall. "Our Cash for Clunker Humidor program exposed cigar fans to the upper echelon of cigar aging and preservation, now it's our goal to provide the same top quality experience with our cigars."
To participate in the program, request a prepaid mailing label from Daniel Marshall and send in your banded, partially-smoked "clunker" cigars. In exchange, Daniel Marshall will provide a $2 credit per cigar clunker to be used towards the purchase of Daniel Marshall cigars at designated retailers nationwide.
For additional details regarding the program, please email us at doug@danielmarshall.com
Offer Details:
Offer limited to the first 200 customers.
Email us for complimentary USPS label to return your

banded

"clunker cigars" to us. (Free label for US MAIL within the Continental US only.)
Shipping fee for your DM Cigars will be charged at a discounted USPS rate for Continental US customers.
Please allow one week for us to ship your DM Red Label Cigars from our appointed cigar merchants from the date we receive your "clunker's".
Program is valid in the Continental USA only.
Post a photo of you enjoying your new DM Cigar, tag us @dmcigars & Hash tag #DMCash4Clunker and you will be automatically entered to win a $1000 Daniel Marshall Humidor to be raffled off February 28th, 2019.
Fill out the form below to participate in this program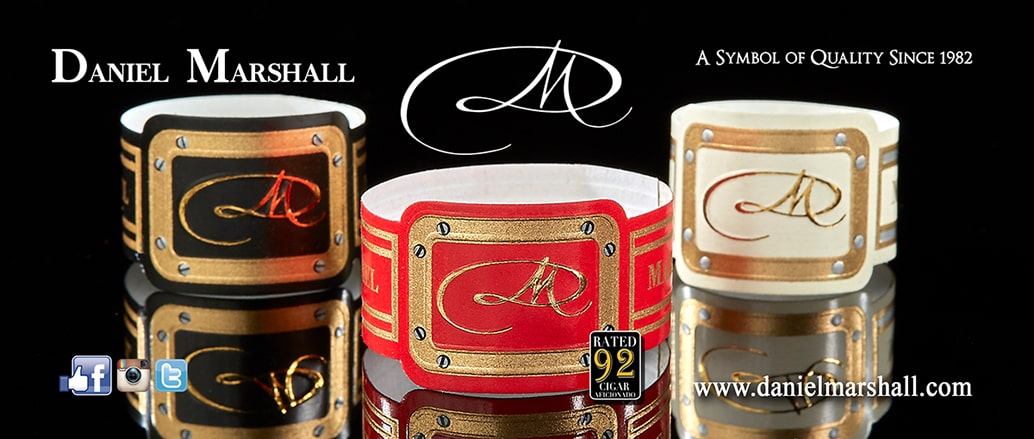 About Daniel Marshall:
Daniel Marshall, a 35-year veteran of the cigar industry is one of the leading names in the cigar world. He is Cigar Aficionado's No.1 rated Humidor designer and creator of the coveted 24kt Golden Cigar. DM Humidors & cigars are enjoyed in the homes and offices of countless Hollywood celebrities, US presidents, dignitaries, titans of industry, fashion designers and the most discriminating cigar lovers worldwide. Marshall is also a cigar and humidor supplier of England's Royal Family. Since 1982, Daniel Marshall has created and designed for the prestigious luxury gift houses Dunhill, Tiffany & Co., S.T. DuPont, Cartier, Hermes, Fred Joaillier, Harrod's, Bally of Switzerland and Garrard's of London. Daniel Marshall's humidors are historic, with a collection on display at the Smithsonian Museum. One of DM's highly collectible Governor Schwarzenegger Humidor's broke sales records in 2016 at Leonardo DiCaprio's Foundation Gala Fundraiser in St. Tropez. This extremely rare humidor topped the charts for highest amount paid for a modern day humidor with new world DM Cigars, raising 750,000 euros. In September 2017, a 1 of 1 humidor DM made for Prince Albert II of Monaco with Daniel Marshall Cigars was put on the block and raised 75,000 Euros to benefit our global oceans.
Visit Daniel Marshall's site at www.danielmarshall.com. You can also find Daniel Marshall on Facebook at www.facebook.com/danielmarshallhumidorsandcigars or follow Daniel Marshall on Twitter @DMCigarWorld or Instagram @DMCigars for real-time updates.
For Daniel Marshall:
Trang Trinh, 714-973-8660, info@danielmarshall.com